Dags att ta kriget till en helt ny nivå. Top-down nivå d.v.s…..
Nästa del i Total War-strategiserien, och den första som utforskar det antika Kina, har nu ett officiellt utgivningsdatum: 7 mars 2019.
Spelare som köper Total War: Three Kingdoms före release* eller under den första veckan får du en gratis Early Adopter-bonus: The Yellow Turban Rebellion.
The Yellow Turban Rebellion är ett Warlord Pack DLC, som introducerar tre nya spelbara Warlords för Grand Campaign som gör det möjligt för spelare att leda arméer av banditer, zealots och commoners i en korståg för att förfalska den korrupta Han-dynastin och skapa en ny framtid för folket i Kina.
Med en spännande nyhetsroster av religiösa och andliga krigare som drabbats av de fördrivna massorna, introducerar detta Warlord Pack också tre nya hjälteklasser – forskare, läkarna och veteraner – plus nya teckenförmågor och färdigheter byggda kring taoismens tre principer: Frugality, Compassion, och Humility
* Genom en SEGA-godkänd återförsäljare – vad nu det exakt innebär.
---
Vid release kommer det även finnas tre versioner av Total War: Three Kingdoms: digital, begränsad och samlarens utgåvor.
Total War: Three Kingdoms Collector's Edition kommer att göras i en exklusiv upplaga – som är högst limiterad.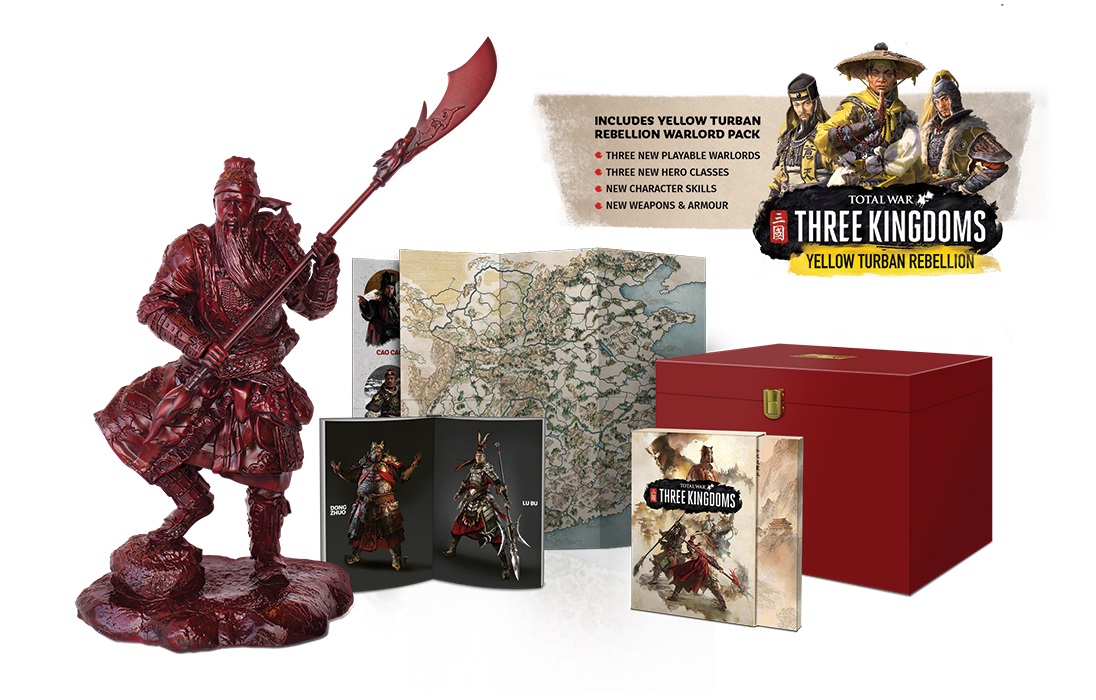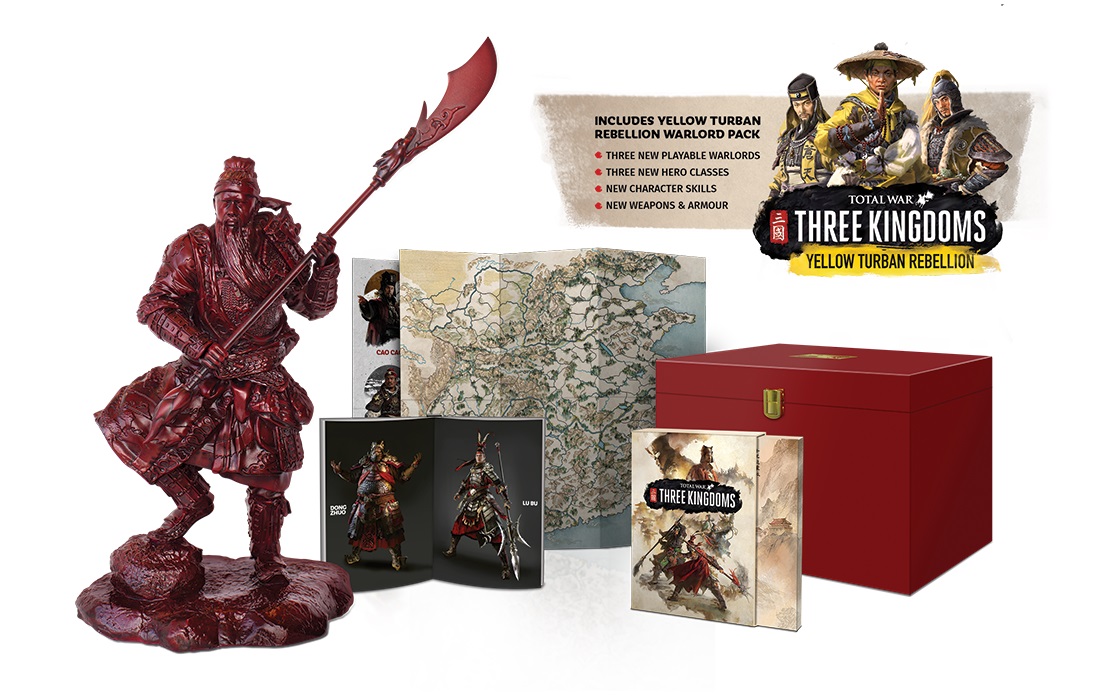 "The Total War: THREE KINGDOMS Collector's Edition will be produced in a single, exclusive production run.

Influenced by the modern historicist Chinese art that defines the game's visuals, the Collector's Edition ships in a beautifully modern, sleek, and minimalist luxury presentation chest, featuring vibrant red colouring and adorned with a premium gold leaf "Three Kingdoms" Chinese stamp. Contained within is a collection of riches fit for an emperor:

24cm Guan Yu Statue 
A weighty resin statue of the legendary hero Guan Yu, a general so talented that in death he ascended to the heavens and earned godly status. His full title and godly remit is: 

Guan the Holy Great Deity; God of War Manifesting Benevolence, Bravery and Prestige; Protector of the Country and Defender of the People; Prow and Honest Supporter of Peace and Reconciliation; Promoter of Morality, Loyalty and Righteousness. 

People pray to his statues when looking for courage, strength, protection, and wealth. As one of the most iconic characters of Three Kingdoms China, he features as a key character in the game and his statue is certainly worthy of adoration. 

Exclusive Art Book 
Inside a black faux-leather cover lies a trove of beautiful and exclusive artwork; painterly landscapes, 
resplendent character concepts, rich and vibrant building designs, and heaps of authentically- 
detailed arms and armour. A sumptuous visual feast across the pages. 

Premium Limited-Edition Case 
High quality game case made of authentic calligraphy paper adorned with box-art that masterfully melds painterly Chinese watercolour and ink effects. 

Double-sided poster featuring campaign map & Warlord poster 
Get a closer look at your cast of playable Warlords and the lands you will conquer with them. One side outlines the vast geography of China as it sits before you, the other introduces you to the varied characters and playstyles at your disposal. 

Yellow Turban Rebellion Warlord Pack DLC – Early Adopter Bonus (Digital Content) 
The Yellow Turban Rebellion Warlord Pack offers three playable Warlords with a full roster formed from the forgotten and downtrodden masses. Lead fanatic zealots in their crusade to topple the corrupt Han empire and forge a new empire for the people in the Grand Campaign. Harness the powers of enlightenment by studying the 'Three Books of Great Peace' focused on the three virtues of Taoism: Frugality, Compassion, and Humility. 

Limited Edition: 

Alongside the Collector's Edition, a Limited Edition will also be available at select retailers. This version includes the premium Limited Edition case and double-sided map and Warlord poster detailed above in the Collector's Edition. 
The Limited Edition also includes the Yellow Turban Rebellion Warlord Pack DLC. "
Man kan alltså lugnt säga, att Total War älskarna, har lite att välja mellan. Med ytterligare en release satt till våren, så ser det ut att bli en hetsk vår för alla spelare.
---
Vad tycker du om denna nyhet? Skriv i kommentarsfältet nedan, eller maila dina tankar till oss på info@nordlivpodcast.se.
Källa: "Sega"